Vans Sandals
Vans Lita Sandals - Women's and other Vans Men's and Women's sandals for sale online.
---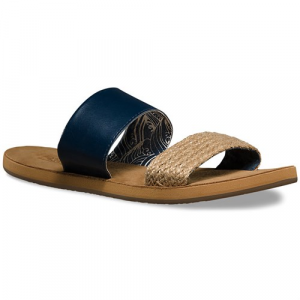 Vans Lita Sandals - Women's
You've worn your Vans for everything from trouncing your first ollie to tromping through Europe on that summer hostel trip--but would you believe that your Vans could double as date material too? Enter the Vans Lita Sandals--their premium leather footbeds with UltraCush(TM) comfort will keep your feet content, while their jute and leather construction grant you style points for whatever the evening has in store....
--- Vans Marina Sandals - Women's
Thanks to the Vans Marina Sandals you can dial in your nautical vibes this season without getting anywhere near a boat. Their premium leather footbeds feature UltraCush(TM) for an unparalleled fit that rivals your slip-ons for comfort, while non-slip rubber on the outsoles means you can kiss worries of sliding overboard goodbye for good....
--- Vans UC1 LX Sandals - Men's Bison/black
With full grain leather and an incredibly comfortable UltraCush oustole, the UC1 LX Sandals are the perfect blend of comfort and style. The UC1 LX sandal from Vans features a classic look with sidestripe emboss details and anatomical straps to keep you extra comfortable....
---
---